Don't wonder if someone is qualified to be on your jobsite.
Know it.
You're handed a resume showing that a liner installer has 10 years experience. Is that person competent? One would hope so.
Unfortunately, we can tell you from experience that experience doesn't always yield quality work. We've seen second-year workers out perform industry vets many, many times. Isn't it time we start measuring knowledge, not just years on the job? Shouldn't our industry demand it? Doesn't your multi-million-dollar project deserve it?
Fortunately, there is now a solution. Our online Certification Testing provides a true picture of an individual's capabilities and knowledge, and then correlates that knowledge into equivalent years of experience.
Finally, there is a standardized, "apples to apples" method for evaluating and ranking workers before they step onto your jobsite. CQAS Certification Testing sets the standard and gives you peace of mind knowing that your return on investment is protected.
Want a sneak peek at the Certification Testing platform?
(You can take a sample test.)
Certification Testing For Geosynthetics

Certified Testing
A comprehensive evaluation and certification program that translates knowledge into equivalent concrete field positions 

Ensures that all site workers have been properly vetted and prepared for their roles

Apples To Apples
Standardized testing means "apples to apples" comparison between installation firms

A true picture of an individual's capabilities and knowledge

Built For The Field
Geosynthetics Installation Staff

Quality Assurance Technicians

Engineering Staff

Completely Online
All testing done online; can be done anywhere there is an Internet connection

Instant reporting – no waiting for results

Continuous Use
Utilize for vendor screening and throughout employment as a progression tool

Available 24/7!

Customized For You
Select the modules you want included in your testing program

We create a specific exam bundle and reporting system for your team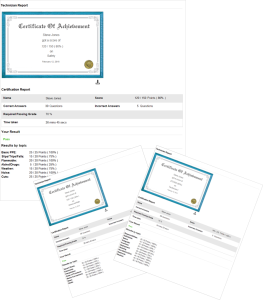 Five Levels of Certification
CQAS Certification Testing measures field knowledge and matches the students' test results to one of five (5) level experience equivalents:
Entry Level – Basic understanding of core installation operations and geosynthetics specific safety procedures. 

Level I –

 

1-2 years Field Experience

Level II – 2-3 years Field Experience

Level III – 3-5 years Field Experience

Level IV – 5+ years of Field Experience and a detailed understanding of how to properly address field issues and troubleshoot problems. 
The exams are designed to be consecutive and cumulative. Thus, in order to obtain a Level IV certification all previous levels must have been successfully certified. Lead Technicians, Foreman & Supervisors should all demonstrate Level IV proficiency.
Ancillary Certification Modules
These "Applied Knowledge" modules are industry specific and can be added to your certification program at no extra charge:
Geosynthetics

Appurtenances
Geocomposites
Drawings & Blue Prints
Survey
Tie-ins
General Education

Advanced Mathematics
Applied Geometry
Applied Mathematics
Language Arts

Professionalism
Safety