Can You Afford Business As Usual?
In the 21st Century business world, the need for standards isn't even a question. It's how you obtain repeatable quality. It's how you protect your investment.
Why then, do we not have our own unified construction standards in the containment industry?
The reality is that you are trying to construct a multi-million-dollar project in a word-of-mouth trade where vendors are not vetted, SOQ's can be unreliable and workers often inexperienced and unqualified.
Here is what happens when there are no industry standards: Your vendors use whatever standard works for them in the moment – yet the outcome still affects your bottom line!
An outsider to our industry once asked us, "Why would any company allow a vendor to determine the standards for their project?"
Our answer: "We don't know why. It doesn't make sense." (Really, how else do you respond to that question?)
Yet, we see it happen day in and day out, project after project.
We've worked in this industry for a long, long time and we've seen site owners' interests compromised by vendors. Like rock pickers being put on CQA detail. Or 2015 project specs calling for poking the liner with a screwdriver to check fusion weld integrity. (Seriously?!)
If you don't set the bar, someone else will. And, they won't necessarily have your best interests in mind.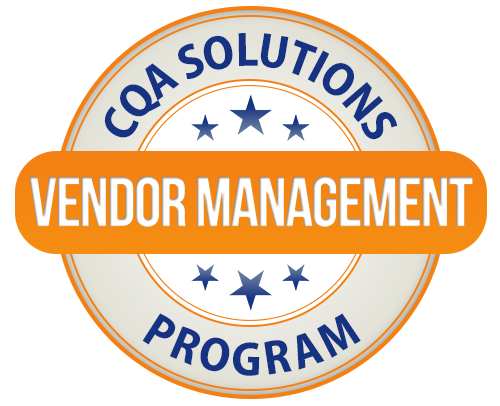 CQAS Vendor Management Program
Our Vendor Management Program helps corporations implement and ensure unified construction quality standards across all containment projects. We make implementing standards and qualifying vendors a stream-lined and easy process that improves your insurance and mitigates your risk.
It's a simple but powerful formula:
Professional Standards + Vendor Qualification
= Sound Insurance & Risk Mitigation

Professional Standards
Your project should not be subjected to a vendor's interpretation of the specifications; instead they should be written with professional standards that are pre-determined. Professional standards are imperative for repeatable quality! You can:
Use our standards, based on our breakthrough field manual, or
Create your own standards. (We will consult with you to develop them.)

Vendor Qualification
Resumes don't always translate to competency in the field. Anyone can look good on paper, but does their work experience actually translate into field quality? Our Vendor Management process includes a certification test for site managers, QA's, QC's and other project personnel, as well as vendor training and auditing platforms, documentation systems, and specification customization. Know that before anyone steps onto your jobsite, they have the skills and knowledge to be there!
Why We're Qualified To Do This
When you hire us, it's not just our reputation on the line; it's yours, too. We get that. And, we won't let you down.
Here's why you can trust us:
25+ years field experience
More than 100 million square feet of geomembrane installation QA/QC experience
Collaborated on a 493-acre installation that was certified with ZERO LEAKS, and has remained so since 2009
International project work
International speaking engagements
Expert witness in litigation
Publisher of complete industry field manual
Multiple featured professional papers
Industry-leading blog on all things containment
Quality Construction Assurance (CQA). It's what we do.